Whatever level of suspended solids from 2 NTU all the way up to >8% solids, the SoliSense® is the solution. A sophisticated sensor that ranges from 2 NTU to 8% solids (in waste water, up to 50% in other solids), this suspended solids monitor is the solution, and is unique in its ability to measure from low NTU to percent solids in one sensor.
Suitable for waste water, potable water monitoring, mixed liquor suspended solids monitoring, return activated sludge, centrate monitoring, filtrate monitoring, sludge, and many more applications where a traditional turbidimeter or suspended solids analyzer would be used. The suspended solids sensor can be fitted with an auto-cleaning function that blasts either water or air across the optical windows keeping them clean.
With the SoliSense® range of Suspended Solids monitors you get a world class sensor (patent applied for).

Each SoliSense® suspended solids monitor is fitted with a light source and two detectors for making the measurements. Having two detectors, positioned at different distances from the light source, allows the sensor to be used over a wide range of suspended solids concentrations. The light source is a long life infra-red LED emitter (providing for 15 years working life). The detectors are matched photodiodes which are positioned to detect backscattered light, that is light that is scattered by >90°. By measuring back scattered light the sensor can be used to detect low and high concentrations of solids. This configuration allows accurate and reliable measurements of suspended solids concentrations and turbidity to be made.
Calibration of the SoliSense® for turbidity measurements or measurements of samples with low concentrations of solids is very easy, requiring a single calibration sample. This sample can either be a reading from another method, or a suitable standard. The analyzer calibrates the sensor by a procedure that reduces the light output through four stages, taking measurements at each. This process provides an accurate and reliable zero and span without the requirement to use a '0' NTU/solids sample.
Calibration of the SoliSense® for the measurement of samples with high concentrations of solids uses a multi-point calibration for the most accurate results. Up to 5 calibration points can be used to give an accurate performance across a wide range of sample concentrations.
The SoliSense® suspended solids analyzer can be mounted on the end of a pole for dip mounting in a channel or tank, or inserted into a pipe via a valve which allows for retraction/removal of the sensor without shutting down the process.

SoliSense® Suspended Solids Monitor
From 2 NTU to 8% Solids
Displays in NTU, mg/l, g/l or % solids – flexible
Auto-clean optical sensor – months without maintenance
Stable and reliable – excellent process control
Suitable for all potable, waste and process waters
Up to 12 months between maintenance
Up to 12 months between calibration
The SoliSense® suspended solids sensor is available with different controllers giving you the same great performance with different communication, display, and control options. With the SoliSense® range of online suspended solids analyzers, you get everything that you need – and nothing that you don't, without sacrificing the quality of measurement.
The use of a single sensor to robustly and accurately measure a large dynamic range of suspended solids allows for:
Less spares – more commonality across a single or multiple sites
No requirement to know the range prior to specifying – easier purchasing
One online suspended solids analyzer can be:

Online mlss meter
Online tss meter
Online total suspended solids meter
Online effluent monitor
Online inlet monitor
Online 'in process' suspended solids analyzer
The SoliSense® suspended solids analyzer has been designed specifically to be suitable for all waste water applications.
Inlet monitoring (turbidity 2-4,000 NTU)
Effluent monitoring (suspended solids 0-1,000 mg/l)
Traditional monitoring applications where the SoliSense® is particularly suited:
Online Suspended Solids Analyzer
Online RAS meter (Return Activated Sludge)
Online MLSS meter (Mixed Liquor Suspended Solids)
Online WAS meter (Waste Activated Sludge)
Thickened sludge – Online total suspended solids meter
Centrate – Online total suspended solids meter
Filtrate – Online total suspended solids meter
Waste Water Effluent – Online total suspended solids meter
Waste Water Influent – Online total suspended solids meter for turbidity
Each probe is equipped with a light source and 2 detectors. The light source is a long-life infra-red LED emitter (providing for 15 years working life).
By using two detectors in a single probe it is possible to:
Measure Turbidity from 2 NTU to 4000 NTU.
Measure solids from 0.001 NTU to 80 g/l (8% solids) – Sludge
Measure solids from 0.001 to 500g/l (50% solids) – Silicates
The electronics provide a fully scalable output allowing the SoliSense® to measure any part, or the whole of the scale. The sensor probe comes equipped with the capability of having a water jet regularly sweep over the optical lenses keeping them clean. If you have an application that ranges from low NTU all the way to %age solids then the SoliSense® is certainly the suspended solids monitor for you! With up to 5 calibration points you can accurately monitor your process across a wide range of sample concentrations.
The probes are constructed of 316 stainless steel with sapphire optical windows, so can withstand demanding operating environments. If you want to monitor solids at any point in your waste water treatment plant, this instrument has the self cleaning sensor and accessories to do it, even if other instruments have failed.
| Document | Type | Size |
| --- | --- | --- |
| | Brochure | 588kB |
| | Technical Note | 601kB |
| | Technical Note | 484kB |
| | Brochure | 582kB |
| | Brochure | 584kB |
| | Brochure | 573kB |
| | Technical Note | 534kB |
| | Technical Note | 481kB |
| | Technical Note | 382kB |
Focus Ons are a series of short articles distributed by email providing technical information regarding instrumentation, process measurement in potable, waste, process and pool waters. If you would like to join the mailing list, please contact us.
Many different sites ranging across the whole water industry have a daily struggle to keep instrumentation functioning correctly due to fouling. However did you know that…
… self cleaning and self flushing systems are now available from Process Instruments for most types of sensors?
… these fouling removal systems can extend the life of sensors and drastically reduce maintenance regimes?
… Pi's self cleaning/flushing systems are affordable, simple and trouble free by design?
Sensor Fouling – Why is it such a problem?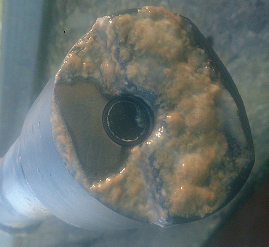 Whatever the process being monitored is, there is often something in the sample water capable of fouling a sensor, and therefore causing erroneous results. The obvious solution to this problem is to clean the sensor, but how regular should inspection and cleaning programs be for each piece of instrumentation? Too regular and the inspection and cleaning regime is time consuming and unnecessarily costly. Not often enough and the instrumentation will give false results and probably fail prematurely.
Solution: Pi's Autoclean & Autoflush Systems
Simple, reliable and easy to maintain, Process Instruments' Autoclean/Autoflush systems are an alternative to mechanical cleaning mechanisms which can clog and break. By regularly spraying the sensor/probe with clean water or air, the sensor remains clean and free from fouling for extended periods of time. The sensor cleaning cycle is activated by Pi's controller for a user selectable length of time and frequency so that no matter how dirty the application, the probe remains clean. With no moving parts in the sensor body or in the cleaning attachment there is nothing to replace or check other than a simple valve positioned in an easy to reach location.
Pi's Autoclean and Autoflush systems can give trouble free and fouling free functioning of sensors for weeks, if not months, at a time.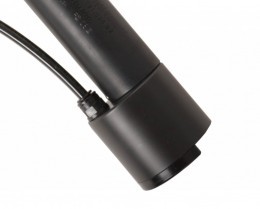 Autoclean
This option can be added to our pH, ORP, Turbidity, Suspended Solids and Dissolved Oxygen (DO) sensors. Consisting of an end cap to direct the flow of clean water (or air for a DO sensor) across the face of the sensor blasting any dirt away. The cleaning is controlled by a single valve positioned in an easily accessible location.
Autoverify
If using air to clean a DO sensor the system can also automatically verify that the sensor is still responding correctly, removing any need to remove the sensor from the sample for months at a time.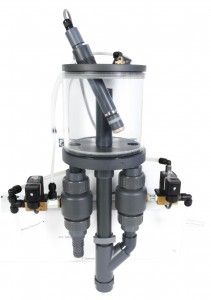 Autoflush
For sensors that require flow cell mounting like Chlorine, Ozone and Chlorine Dioxide, an Autoflush system has inbuilt valves which automatically start/stop the sample flow and control the flow of clean water past the probe. The user can set the flushing interval and duration to keep the flow cell and sensor clear from fouling. For particularly dirty or stubborn contaminants, warm water can be used as the flush water to aid cleaning.
With the above options, whatever the application or parameter being measured, Process Instruments will be able to provide a monitoring system that will not only be accurate, precise and long lasting but that will also remain free from fouling and save the operator both time and money.